Thien X. Do (Đỗ Xuân Thiện)
Founder | PADI Course Director | EFR & Specialty Instructor Trainer
Thien's first view of the underwater world was through a swimming goggle on a pristine reef off the 
Refugee Camp at Pulau Bidong
, Malaysia in 1980. As a 10 years old political refugee awaiting UNICEF to decide his future, little did he know that first glimpse under the sea will be a part of his life's passion.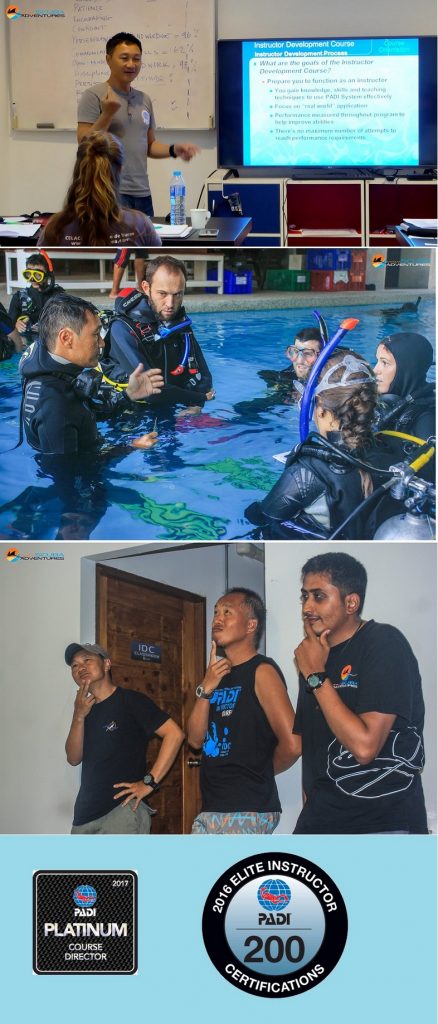 Born in the former country of South Viet Nam, Thien escaped with his family among the "Boat People" to Malaysia in 1980. He immigrated to the US in 1981 and grew up in California where he lived until 2001. A graduate of 

University of California at Santa Barbara

, Thien's previous

professional life

has been as a Store Manager for 

Gap Inc.

 and Business Development Manager for 

E-greetings Network Inc.

Graduated from PADI Head Quarter in California, Thien was very active as a full-time IDC Staff Instructor at Dive Asia PADI CDC. By the summer of his 2004 PADI CDTC, he had worked in 25 IDC programs (training over 300 candidates alongside the late PADI legendary Course Director, Bjorn Tackman) before becoming a PADI Course Director. Prior to making Scuba Diving his daily lifestyle, Thien was very active in the outdoors with mountain biking, running marathons, stumbling through triathlons, and had fallen off his skis quite often while searching for that ultimate "adrenaline rush." Beside teaching PADI IDC, Thien loves to go diving with his students, customers and friends exploring local, regional and liveaboard dive sites. Unlike many busy Course Directors, he also enjoys teaching all levels of PADI courses from beginner to advanced level. To find out more about his activities, Thien shares his dives and trip comments on the web, via his Facebook Timeline. When he's not in the water, Thien spends time with his new born son, keeping up with his other businesses (Dive Equipment Distribution, Rumblefish Hostel, Rumblefish Viet Nam), traveling or chilling with his friends.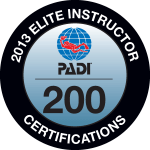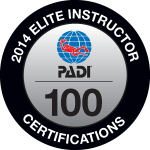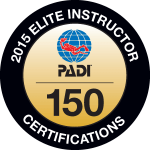 Latest Events and Update
Get to know Thien, click here for a PADI's short interview with our low key leader.
Received PADI Elite Instructor Award and 'PADI Platinum Course Director' recognition again for 2016 PADI Frequent Trainer Program and Elite Instructor Award
Opened Rumblefish Vietnam PADI 5 Star Dive Center in Ho Chi Minh City in July 2014
Supported Oceanic Quest to be come PADI first 5 Star IDC Center in Brunei and completed the first ever PADI IDC in Brunei in February 2014.
Set Rumblefish Adventure's PADI IDC record with 21 successful new instructors in 2013.
Surpassed 2012 record by completing the current largest PADI IDC and IE in India in May 2013 with 12 candidates.
Conducted the first and only PADI IDC in Lakshadweep Union Territory, India (Jan 2013)
Successfully completed the largest PADI IDC and IE in India with 10 IDC Candidates and 5 IDC Staff Candidates in May 2012.
Led Rumblefish Adventure to PADI 5 Star IDC in August 2010
Conducted Scuba Junkie first PADI IDC at Mabul Beach Resort, Mabul-Sipadan Islands, Malaysia (Nov 2010)
Received PADI Recognition for conducting first ever PADI IDC and the inaugural PADI Instructor Examination for India (Andaman Islands, Nov 2009), at Barefoot Scuba.
Conducted Cambodia's first ever PADI IDC including the first ever Cambodian Khmer candidate to be certified PADI OWSI (Sihanoukville, Oct 2008)
Conducted Bakersfield's first PADI IDC's (Kern County -California, 2005, 2006 & 2007)
Became the world first and only Vietnamese-American Course Director in 2004
Became a PADI Divemaster and OWSI with Dive Asia CDC in Phuket, Thailand in November 2001
Business owner of three companies in Phuket & US
(Au) Noppharat Puangrangsard
Admin & Reservation Manager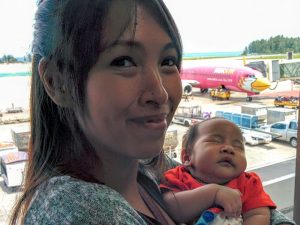 Au joined the Rumblefish family in 2015, after her stint as a Booking Manager with DaVinci Yacht Charter. She will be handling the administrative process for the Rumblefish Group (Dive Center, Yacht Charters and Hostel). Au smiles a lot, very direct and great at cooking, when she has time. Her secret identity is revealed on stage when she got a microphone; you'll be amazed with her voice.
Private Yachts Charter Manager
Administrative specialist

Language:  Thai and English
Moris Steiner
PADI Master Scuba Diver trainer (354917)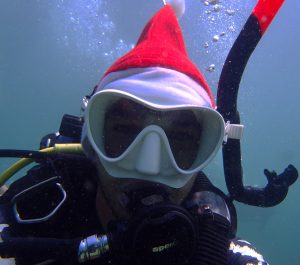 Moris joins the Rumblefish family as our in-house PADI Instructor for 2016-17 seasons after completing his PADI IDC and 3 months Pro internship with us. He completed his PADI Divemaster at Barefoot Scuba, Thien's PADI IDC partnered center in the Andamans Islands, India. Moris is a lover of the sea. He will always say yes to a dive, early or late, light or dark.
Emergency First Response Instructor
PADI Specialty Instructor: EANx, Deep, Emergency O2, Night, Sharks Conservation Distinctive
Language:  German, English and French
Camillo Taege
PADI IDC Staff Instructor (909331)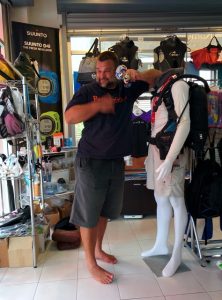 One of Thien's specialty students in 2004, Camillo returned to Phuket in 2012 to take up diving again. Nick name 'da Big Bear,' Camillo joined team Rumblefish on a part-time basis, or when ever his free time allowed. You will most likely gets to spend time with 'the big fella' during your Pro training programs with us. Camillo is currently taking the role as Thien's senior Instructor during the PADI IDC.
PADI Specialty Instructor: Deep, EANx, Night, Search & Recovery, Underwater Navigation, Wreck and a few more!
Language:  German, English (with a slight German accent) and Thais (conversational)
(Pae) Umporn Boonchoo
Rumblefish Hostel Assistant Manager / PADI Open Water Diver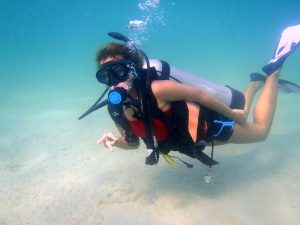 We welcome Pae, to join the Rumblefish family as she will be handling the Rumblefish Hostel operation. Pae will also be in learning to help with the dive center as she starts her dive training. Pae smiles a lot, and when she's out on the town, watch out, you will not recognize her when she dress up for a party!
RfA Hostel Assistant Manager
Food specialist
PADI certified Open Water Diver
Language:  Thai and English
JP Vuorio
PADI Course Director (73210) | DAN Instructor Trainer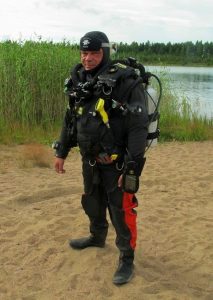 One of the first PADI TEC Instructor Trainers from the land of Santa Claus, Finland. JP started diving in Finland back in 1994. Claimed to be a 'cha cha' (slowly) learner, he preferred to teach his students in the same manner today. JP wants to ensure that his divers learned and remembered all key concepts long after the course. JP is currently taking the role as Rumblefish PADI TEC Deep and Rebreather Instructor Trainer and one of our PADI Course Directors.
PADI TEC Instructor Trainer: Deep and Rebreather
Language:  Finnish and English (conversational)
Weerapong (Pele) Rattanaburi
Dive Center Assistant / PADI Advanced Certified Diver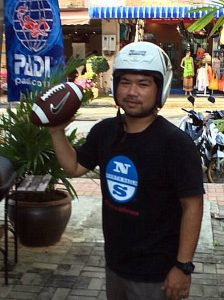 We welcome our newest Pro team member Pele to join the Rumblefish family. Pele will be our dive center assistant and hostel supervisor trainee during his 3 months probation period. He'll also starting his PADI Rescue Diver training to prepare for the Divemaster level in the near future.
RfA Dive Center super staff
Licensed TAT Tour Guide

Language:  Thai and English
Former Staff of Past Year
Miz Imanishi (resigned)
PADI Open Water Instructor / Specialty Instructor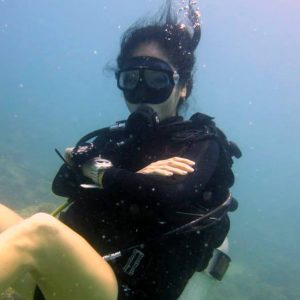 Rumblefish Adventure's night owl was our center Operation Manager and one of RfA Founders. A resident of Phuket, Thailand since 2001, Miz was responsible for the daily operation of the Dive Center and Hostel. Other than taking care of the guests, she's one of the few people that can handle 'hot yoga' more than one session a day.
Nitrox Instructor
Equipment Specialist
Language: Japanese, English
Markus Jacobsson (resigned)
PADI Open Water Instructor / Specialty Instructor
Markus joined us in November 2013. Hailed from the land of the Vikings (Sweden), this young and energetic instructor loves to dive, talk about diving, and can chat all day about anything diving. He's specialized in maintaining updates for our Facebook page and gaining much more experience in creating short videos. Prior to getting hooked with diving, Markus began his love for Thailand through Muay Thai Boxing training. Learn to dive or going fun diving with Markus will guarantee you with views of very bright fashion and huge bug eyes sun glasses!
Nitrox Instructor
Emergency First Response Instructor
Language: Swedish, English
(Joe) Gerard Goh (resigned)
PADI Open Water Instructor / Specialty Instructor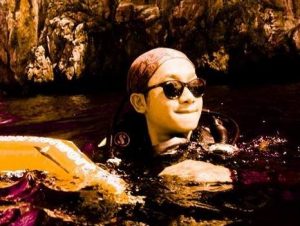 We welcome Joe, to join the Rumblefish family as our in-house PADI Instructor for 2015-16 seasons. Joe completed his PADI Divemaster and IDC at Scuba Junkie in Borneo, Thien's PADI IDC partnered center. Nick name 'GG,' he's among the best at teaching children and students needing additional attentions in the water.
Emergency First Response Instructor
PADI Master Scuba Diver Trainer
Language:  Malay, English and Mandarin Chinese
(Yvonne) Chun Yi Tse (resigned)
PADI Master Scuba Diver Trainer (345547)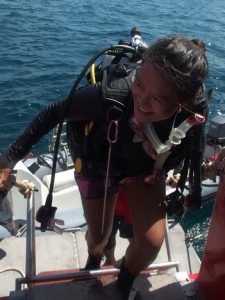 We welcome Yvonne, to join the Rumblefish family as our in-house PADI Instructor for 2016-17 seasons. Yvonne joined our Internship program after her stint as a Divemaster in the Maldives. She completed her PADI Divemaster Course at Scuba Junkie in Borneo, Thien's PADI IDC partnered center. With a full season working in a remote island, Yvonne is more than ready to live and teach in Phuket, one the world's most popular travel destinations.
Emergency First Response Instructor
Specialty Instructor: EANx, Deep, Emergency O2, Night, Sharks Conservation Distinctive
Language:  Cantonese, Mandarin Chinese and English