Dive Hin Daeng & Muang and Ko Haa Marine Park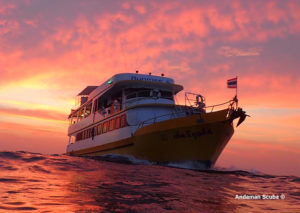 Liveaboard trip, 3 days / 3 nights, 11 dives. From 21,900 THB/diver in Standard Twin cabin.
Main highlights of the cruise: 3 dives at South Thailand top dive destinations, Hin Muang & Daeng (Purple & Red Rocks), dives at the cavern at Koh Haa Yai, the Cathedral and the Lagoon.
Current 2018 trip dates confirmed:
10-13 March
19-22 March
24-27 March
28-31 March
Click here to view or download full schedule for all of 2018 & 2019.
Hin Daeng & Hin Muang
These are two of the top dive sites in the South Andaman sea location. The reefs around the Red Rock (Hin Daeng) provide spectacular colors and variety of marine life.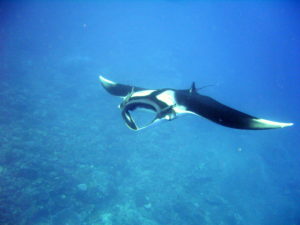 Mixing hard and soft corals, the rock displayed vibrant colors of redness and pink. Fish to see here are including schooling giant barracudas, tunas and fusiliers, with oceanic Manta rays along with the magnificent whale shark are the main attractions.
100 meters from Hin Daeng is another world-class dive site with one of the most amazing reefs in the Andaman Sea. The Purple Rock (Hin Muang) reef is totally covered with hard, soft corals. Marine life to see here are mostly oceanic species, including silvertip shark, Manta rays and schooling of jacks and tunas.
Koh Haa Islands, located approximately 3 hours and 45 minutes east of Phuket, is a group of five islands around 25 km west of Ko Lanta separated by deep water channels. There are six different places to dive here. One of the popular dive sites is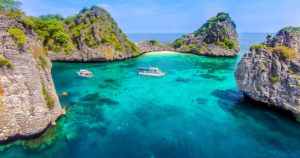 'the Cathedral,' a series of caves at the largest island, Ko Haa Yai, where natural light filters into a large underwater chamber. The entrance is at about 12 m and you can actually surface inside to view some spectacular overhanging stalactites.
Conditions are easy to moderate, and perfect for beginners to advance level. The resident marine life include turtles, schooling of yellow-lined snappers, jacks and barracudas. You also will find some reef fish common only in this area such as Blue ring Angel Fish. Extra encounter on a dive is seasonal whale sharks and small stuff like seahorses and ghost pipefish.
Visibility: 20-30 meters
Depth: 5-30 meters
Current: very mild to moderate
Diver level: All
Marine Park Fee and rental Prices
Krabi Province Marine Park Entrance fee: 600 THB/diver, 400 THB/non-diver
Equipment rental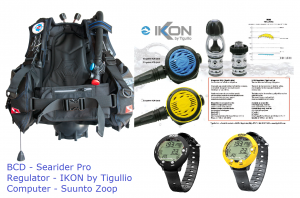 Basic Set (BCD/Regulator/Octopus/Fins & mask/shortie wetsuit): 500 THB/set/day (popular!)
Deluxe Set (Basic set plus Suunto Zoop Dive Computer or equivalent): 700 THB/set/day (best deal!)
Dive Computer Rental: 300 THB/day