What's a PADI IDC Staff Instructor?
Becoming a PADI IDC Staff Instructor will move you towards instructor-level training and teaching in the Instructor Development Course (IDC). IDC Staff Instructors can independently train and certify PADI Assistant Instructors from a PADI 5 Star facility, as well as help train PADI Open Water Scuba Instructors in an IDC at a PADI 5 Star IDC facility. PADI IDC Staff Instructor is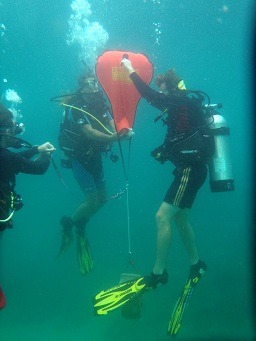 a pre-requisite for achieving Master Instructor rating, a requirement to apply for the Course Director Training Course.
PADI IDC Staff Instructor Duties
Teach PADI Assistant Instructor Courses Assist PADI Course Directors conduct the PADI Instructor Development Course Help PADI Course Directors conduct instructor level continuing education
Prerequisite
To Enroll in an IDC Staff Instructor Course, an individual must: Hold a PADI Master Scuba Diver Trainer Instructor certification
PADI IDC Staff Instructor Course (IDCS) Price: 15,900 THB
Schedule 2017
| | |
| --- | --- |
| Upcoming PADI IDC Staff Instructor Courses | PADI Instructor Examination (optional Audit) |
|  05-17 February (Phuket, TH) | 18-19 February (Kata Beach) |
| 19 February - 2 March (Khaolak, TH) | 4-5 March (Khaolak) |
| 30 March-10 April (Mabul Isl, Malaysia) | 15-16 April (Semporna) |
Click here
to view all of our current
PADI IDC & IE Schedule
PADI Fees
PADI fees are not covered by your course prices. You will need to pay directly  to PADI Asia Pacific Office after your course via credit cards, bank draft or money transfer.
IDC Staff Instructor Application Fee: 161.00 AUD
Required Materials
PADI Course Director Manual & Original codes (Member price: 404 AUD, product# 70860E/F/S)
Confined Water Presentation Evaluation Slate (Member price:  49.55 AUD, product# 60575)
Open Water Presentation Evaluation Slate (Member price:  49.55 AUD, product# 60574)
your PADI IDC & Instructor Materials