Rumbelfish Hostel at Kata Beach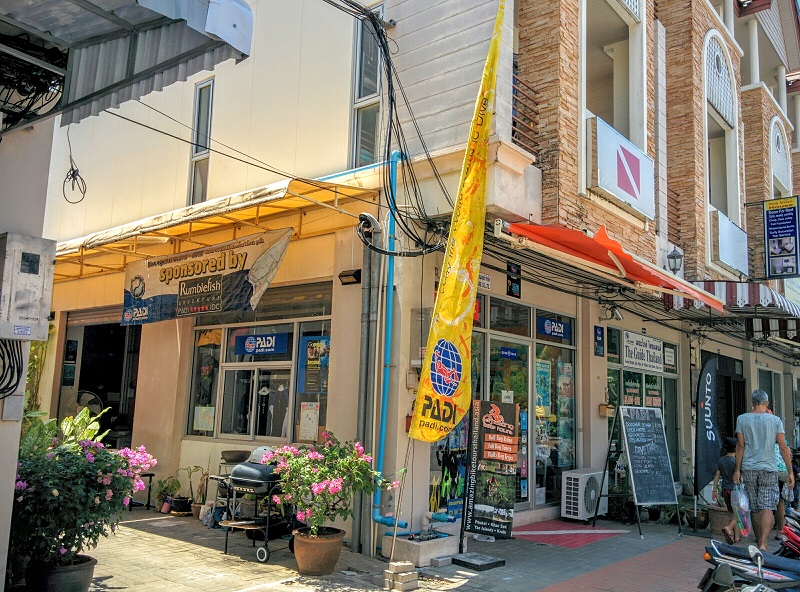 We have 4 types of clean, comfortable rooms to accommodate up to 13 people, conveniently located inside of the Beach Center at Kata Beach. Book diving with us and get extra discount on your stay. Contact us for weekly and monthly rates. We also welcome non-divers and backpackers. However, the right to refuse your booking is reserved by our staff, if guests are disrespectful, shown lack of courtesy, cleanliness and/or simply being a 'jackass.' The hostel is reviewed on Lonely Planet and Hostelworld for your reference.
Mini Bar with fridge (self-service), Complimentary coffee & tea
Lounge with TV & DVD player
Free wireless internet access
4 bathrooms with shower
Located inside of a quiet gated compound
Shops & restaurants in walking distance
7 min walk to Kata Beach
Bike & car rentals & airport transfer available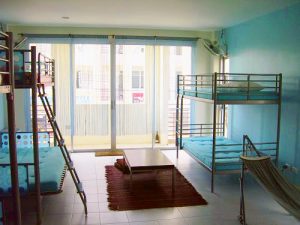 Mixed Dorm
 : (6 beds, fans, ensuite bathroom with hot water shower, towel and individual lockers with locks) NON-Smoking!
1st Nov  -  31st May 
  250 THB / person / night
1st June  -  31st October   
225 THB / person / night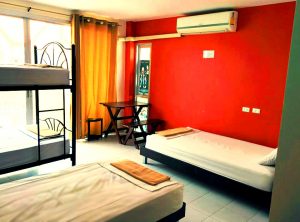 Twin/Triple Family Room : (3 beds, AirCon, 2 fans, ensuite bathroom with hot water shower, towel for 2 or more nights and individual lockers with locks) NON-Smoking! 1st Nov -  31st May : 950 THB / night 1st June - 31st October : 750 THB / night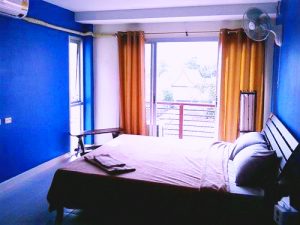 ฺPrivate  Double Bed : (AC + fan, ensuite bathroom with hot water shower, towel set and locker) NON-Smoking! 1st Nov - 31st May :  Double: 800 THB / night 1st June till 31st Oct : Double: 600 THB / night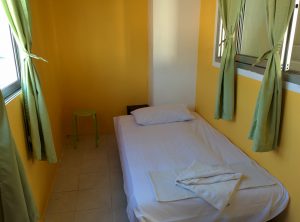 Private Single Bed (fan, shared bathroom with hot water shower, towel set and locker) NON-Smoking! 1st Nov - 31st May: Single: 400 THB / night 1st June - 31st Oct: Single: 300 THB / night

**20% peak season surcharge applies for 20 December ~ 10 January, 10~15 February and 10~15 April**

Hotels, guesthouses and resorts within 5 minutes or less walk to our dive center, and the serene Kata Beach, Boutique hotels inside the Beach Center, Kata Beach. Click on the hotels below to check their latest discount rates:
Capannina Inn (***, western designed room, roof-top swimming pool, Phuket's top Italian restaurant on-site, owned and managed by Mario, the famous chef of Capannina Italian Restaurant fame)
Sugar Marina Resort - Surf (****, opened in mid-2014, well appointed modern room, great location in central Kata, Thais hospitality and service, easy strolls to all activities and Kata Beach)
The Beach Heights Resort (****, New resort, Thais hospitality and service, nice western style rooms accommodation)
Phuket Chaba Hotel (**, Thais hospitality and service, nice western style room accommodation, beautiful outdoor pool area)
Jinta Andaman Guesthouse (*, Thais hospitality and service, nice owner, good cafe with reasonable prices, clean and nice private rooms and dorms for backpackers)
the Racha Guesthouse (*, Thais hospitality and service, easy going owner, decent cafe with reasonable prices, clean and fairly nice private rooms)
Honey Resort (**, Thais hospitality with a modern design, new resort opened in 2010, great location and convenient walk to Phuket's best beach. Locate just outside the entrance to the Beach Center, 2 min. from our dive center)
Other hotels in walking distance or a short bike ride to the Beach Center and Rumblefish Adventure: